When moving home, there are certain items that are quite easy to lose in all the commotion. Among them are remote controls, keys, photos, books, as well as your nerves. The most expensive, however, are usually small pieces of jewellery. If you are planning to relocate in the near future and you do not want to risk losing your grandmother's wedding ring or your collection of earrings, you should learn how to safely handle your jewellery when moving home. There are three main things on which you must pay extra attention:
Packing
Transportation
Unpacking
Be creative when packing
Do not think that you can just chuck your jewellery in a box along with your other accessories and expect that they will safely arrive at your new home. You will need to carefully prepare and pack them before they hit the road. There are many ways to do that. One of them is to simply arrange all of your rings, necklaces, bracelets and earrings into a jewellery box. Still, make sure you pick one that has many compartments so that you can better organise your possessions. Also, for safety reasons, get a box that can be locked.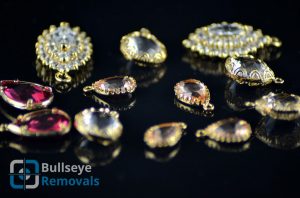 There is an alternative way to pack your jewellery pieces and the best thing about it is that it won't cost you a single dime. Just look around your home and you will find many other items with which to prepare and secure your precious possessions before you move them. A regular pill organiser, for instance, is a perfect place to store small earrings. Just wrap each piece in soft packing paper before you put it in its compartment. For earrings that are bigger and heavier consider attaching them to a piece of cardboard or even on business cards. In that way, you will keep them in pairs and you will be able to easily find them when you start unpacking.
Things are a little trickier with bracelets and necklaces. It is incredibly hard to prevent these pieces from tangling even when you are storing them. The good news is that there is a solution for that problem – put them in a tube-like object. You can use toilet paper rolls when packing your necklaces. Slip the necklace through the roll and clasp it. Wrap it with packing paper if the piece is delicate. Since bracelets are smaller and thinner, use drinking straws instead of a toilet paper roll. It should also be noted that each necklace and bracelet must be packed separately.
Don't leave the jewellery unattended
Even if you trust the team of movers that you have hired, do not leave your jewellery in the moving van. Otherwise, it may get lost. In fact, leaving your valuables unattended during the relocation process is always a bad idea since someone may easy steal them. The best strategy on which you can rely is to transport your jewellery pieces on your own. Put them in your bag and keep it on you all the time.
Unpacking your jewellery is guaranteed to be smooth and safe if you have followed our packing tips.