Domestic and commercial customers can turn to us for specialised furniture delivery and assembly service at excellent prices. We handle collection, delivery and assembly of furniture from all major and non-major outlets in London (online too), including IKEA. The service is truly convenient, efficient and reliable – we will have your new furnishings delivered, assembled and ready to enjoy as soon as possible.
How does the delivery and assembly service work
First of all we will need the number, dimensions and weight of the furniture we are collecting, the more accurate the information the better price we are able to offer;
Next let us know whether or not furniture is assembled, partially assembled or will require full assembly after delivery – this also helps us quote correctly;
Please provide exact address for collection and delivery of furniture, this is very important so be as accurate as possible;
Let us know of a convenient time to receive the delivery, be advised that assembly will require a certain amount of time so pick a suitable day;
Provide copies of any applicable paperwork which our drivers are to present upon collection or delivery of furniture;
Let us know of any other specifics and considerations concerning the collection and delivery service you are about to book.
If factory packaging is damaged, insufficient or simply missing, so it might be necessary to perform additional packing of furniture pieces to prevent damage during handling and transportation. Please discuss this with our consultants when booking our service in London in order to clarify responsibility and liability if 'packing as is' option is selected by customers.
Furniture assembly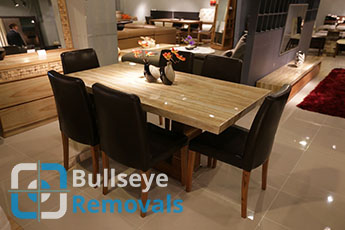 Most of the time household and office furniture comes disassembled i.e. flat pack furniture as this allows for safer and more efficient transportation. Our qualified and experienced technicians can quickly deal with furniture assembly and have everything put together without any risk of error or damage. Our technicians are equipped with all necessary tools to ensure quick and proper assembly of all types of furniture. If customers don't really have the time for assembling furniture on delivery day we can be called out for follow up and complete the furniture assembly in a more suitable time and day.
Our London drivers and technicians are qualified professionals who will ensure quick and safe transportation of your newly purchased furniture. Customers can rest assured that all assembly work will be done carefully, using the right tools as per the manufacturer provided instructions.
Furniture delivery from IKEA or other London stores, can be booked seven days a week, under flexible hours. No change of price for bank holiday deliveries. Please remember that some stores and outlets may not be open on certain days so check with them before booking your furniture delivery and assembly service with us.
London is the record and book keeper of the UK – more than 1/3 of all public records in Great Britain are housed in London, including the National Archives which dates back to the 11th century AD. National Archives also contain the famous Doomsday Survey (Doomsday Book) conducted by William the Conqueror. The city also has more than 380 public libraries, including the British Library which holds the Magna Carta.