Piano removals in London are one of the things that we at Bullseye Removals truly excel at. Our dedicated packers and movers have all the means to complete specialized moving jobs with ease and care for the detail. They are ready to work for you on any schedule and meet your requirements with ease.
Specialized removals across London done properly and on a good price
Piano moving in London, much like anywhere else, is a rather demanding and responsible job. Get in touch with us today and we will see to its proper completion. Our London removal team have years of experience in piano and other finely tuned musical instruments relocations. Since we believe in the individual approach toward every job, we will tailor a plan for just your project so that we are a hundred percent certain that your needs and personal preferences are fully accounted for and met.
The most reliable moving firm in town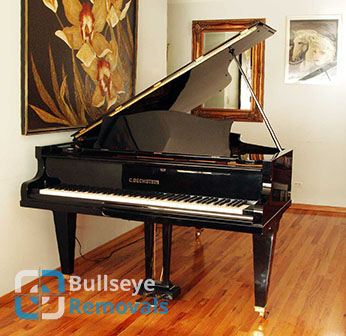 In order to do our piano moving duties in London we are going to bring in the full resources of our company:
Trained dedicated licensed movers
Full goods in transit insurance
Clean GPS navigated vans
Packing supplies of the highest quality
Bullseye Removals London believes we are indeed the best moving firm to count on for your successful piano transportation in London. You will not regret having us by your side throughout the duration of your move – because we are going to make sure all your needs are met.
Storage service up to all industry standards
Our storage solutions are also worth checking out. The facilities that we maintain are clean and very well secured. They are up to the highest standards and are available for short term and long term lease alike. Feel free to get in touch today in order to find out more about our very efficient storage solutions in London. We will gladly help you pack and move your goods to storage at any time of the day and night. That's exactly how much we care.
Get in touch now
Do not hesitate to contact our polite and helpful customer support for further details on our moving services in London. You can get a free quote over the phone or by filling out our easy to use online contact form – the price you are told in advance is the price to pay upon completion of your moving task. We are certain that you will be happy with the conditions that we offer you.
The territory of London is divided into 32 boroughs that are part of both Inner London and Greater London. Thanks to the very well developed railway system you can reach one end of the metropolis from the opposite one very quickly – for less than an hour. The majority of the business done in London takes place in the City, which is a global financial centre rivaled only by the likes of New York City and Hong Kong. Tourism also accounts for a big part of the annual turnover of the capital.