Contact us today if you are looking to hire competent and hard-working movers for your upcoming business relocation anywhere in London. We have been in the removal industry for a number of years and we have a rock solid reputation that precedes us. We are known as friendly, dependable and skilled contractors who always get the job done and who emphasise on safety.
Safety is our top priority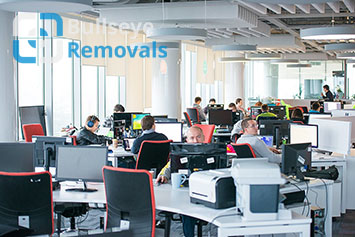 We work with the best packing materials that money can buy because we know how delicate office equipment can be. This is why we use hardtop containers for fragile items such as printers, scanners, computers, digital devices, multimedia screens, projectors and etc. Even more, we necessary we will built wooden crates in order to pack your largest assets and ensure their safety. We can also sell and deliver to you shielding supplies in case you are planning to pack the office inventory on your own.
Our office  removal services in London are renowned for their quality and efficiency, so you shouldn't worry about the scale of your commercial relocation. Our movers are highly qualified technicians who will meticulously handle the entire job from start to end and make sure that all your company assets as brought to you within the predetermined timeframe. We use top quality lifting instruments which allow us to easily load even the heaviest and bulkiest items onto our fully equipped, stocked and clean Lorries and Lutons.
Benefit from our comprehensive commercial relocation services
We dare say that we are the preferred removal of :
We work with custom based prices which can fit into any relocation budget
We maintain nationwide coverage
We provide round the clock assistance via our 24/7 customer support centre
We work in full transparency and our quotes are final
We are fully insured and have a 0% accident ratio
The great flexibility of our services includes such convenient options as late night removal. So if you wish to move your place of business after work hours, give us a call and we will gladly lend you a hand and execute your office removal in London without disturbing your daily operations. Hiring our services is easy as we work with a well-organised schedule which always has free slots for new jobs and more importantly which allow us to not turn down same day bookings.
You can obtain detailed information about the remainder of our services by exploring our company website in full.
We are seated in capital of England, London. The city is home to a total of four World Heritage Sites including the Tower of London which is perhaps the most famous of the four as it is one of the city's most visited landmarks. The White Tower which is the oldest section of the castle dates back to the late 11th century and was built by the order of William the Conqueror.  The Tower of London is internationally known for housing the British Crown Jewels. It lies in close proximity to several other places of interest such as Tower Bridge, the Shard, the Gherkin and more.