When it comes to specialized removals in London, such as antique relocations, Bulls Eye Removals is definitely the best option that you have before you. We are a truly great moving firm which is dedicated to quality on all levels – from customer support to the way we pack and move the goods of our clients.
Reliable moving helpers in London
Feel free to get in touch with our expert packers and movers any time that you need help with moving antiques in London. No matter whether you are relocating pieces from your private collection or you represent a London based museum or gallery, we are the right people for you. There is no better prepared and equipped removal experts in London, helpers and movers that you can count on.
Responsible moving company for a responsible job
We do antiques removals in London in a manner that is up to all the quality standards of the industry. Our experts will first inspect the items that are to be moved, then we are going to do the necessary preparation work so that it is certain that the pieces are properly packed and eventually moved. There is no doubt in our mind that we are going to do an exceptional job with this, because we always do – the outstanding customer reviews that we receive for our London moving services are a good enough prove that we know exactly what we are doing and we do it well.
Removal vehicles fitted to the requirements of your project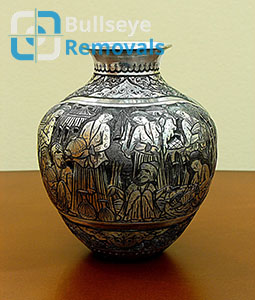 The integrity of your high value items is going to be guaranteed by our:
Reliable packing materials
Clean, GPS tracked vans
Skillful packers and movers with years of experience in moving antiques in London.
All you have to do is get in touch with our polite and knowledgeable, not to mention very helpful around the clock customer support and make a reservation. We will take care of all the other aspects of the job, and provide you with all the information that you need in advance. Free quotes are due to anyone interested upon contact too, so just make the call. We will handle the rest just like you might expect from your leading professional moving company in London.
Cheap and efficient packing solutions in London
Our packing services in London are truly one of a kind and we encourage you to check them out even if you are not moving antique objects per se.
London is one of the oldest and largest cities in Europe. It was originally a Roman military camp, and then a small city which became the capital of England after the Norman conquest. Today London is home to one of the most important museums in the world – The British Museum, several thousand listed buildings and other attractions that make it a major tourist destination for visitors from both the country and overseas. Usually they come to London through the Heathrow Airport – probably the most important transport hub in the capital.