When people are trying to find a professional and reliable moving company, their search usually consists of a few main steps:
Ask a friend, relative, neighbour or a colleague to recommend them a team of movers;
Browse through the websites of local moving businesses;
Read reviews from clients posted on social media and review websites;
The last step is, by far, the most useful of the three. That is because removal companies can post whatever they want on their site. Also, the opinion of one person even if that one person is your best friend may fail to show you the full picture. That is why it is important not only to go through the customer reviews of the firm you are planning to hire when moving home but to also write reviews. Your opinion and experience can help many people which is why this matters.
Help other potential clients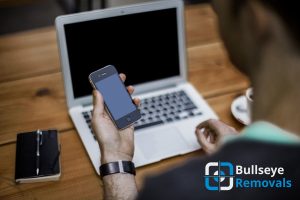 If, for instance, you are looking for a secure antiques removal service in London but you cannot find any reviews online, hiring the company will be like shooting in the dark – you won't know whether you have hit or missed your target until the lights get back on. It can be extremely hard to make an informed choice when you are not presented with any third-party opinions. Which is why it is important to always write a quick review for your movers. Most people only do that when their relocation experience was either excellent or nightmarish. But even if the quality of the professional removal service which you used was just "ok," don't be shy and share our opinion on the World Wide Web and allow the company's potential clients to make a better choice.
Prevent scams
Did you know that by writing reviews for your moving company also has the power to prevent scams? The websites of positively reviewed businesses will boost their rating, while negative ones can push a company down on the list of web search results.
Feedback is always important
If the moving company which you recently used already has dozens of reviews online, you may assume that you don't need to bother adding one written by yourself. Well, you are wrong because every self-respected moving firm values feedback from its customers even if it is negative. That is because it helps them pinpoint their weak spots and to make the right changes to improve the quality of their services.
One bad egg spoils the bunch
Another reason why established companies take their time to read the reviews written by their customers is that it can help them keep an eye on the performance of their employees. If there is even one bad egg in their moving team, i.e. a bad employee, an experienced removal business can suffer a major reputation blow. That is why reliable companies in the professional removals industry, love it when their clients out a bad egg before it spoils the whole bunch.
As you can see, writing a few quick lines about your experience with the last moving company you hired can save the day for someone else be it the company itself or a person who is planning to move home. So, be a hero and write reviews!